In order to keep the Bentley Arnage running in top shape, it is important to adhere to the factory's recommended service schedule. My 2004 Bentley Arnage T will be due for its 60k mile service soon. I will document that service on the YouTube channel. Please note that I have compiled this schedule specifically for my model and trim.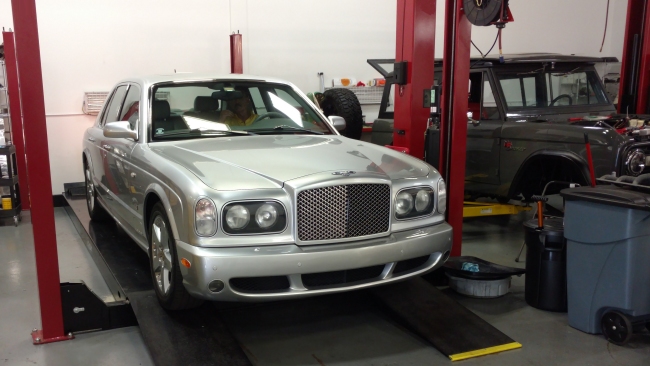 This information was compiled using the Bentley Arnage Service Schedules and Record Book, the advice of my mechanic, and the twin turbo 6.75 liter Bentley Arnage T, Arnage R, & Arnage RL 2002-2006 Service Kits available on FlyingSpares.com. The kits are also for the Bentley Azure and Bentley Brooklands. To verify if this service schedule applies to your vehicle, check your owner manual, service record book, specialist or dealer.
| Schedule | Service Type |
| --- | --- |
| 10000 miles or 1 year | A |
| 20000 miles or 2 years | A & B |
| 30000 miles or 3 years | A & C |
| 40000 miles or 4 years | A & B |
| 50000 miles or 5 years | A & D |
| 60000 miles or 6 years | A, B, C & E |
| 70000 miles or 7 years | A |
| 80000 miles or 8 years | A & B |
| 90000 miles or 9 years | A & C |
| 100000 miles or 10 years | A, B, D & F |
After 100,000 miles, the schedule repeats. After 15 years, replace the ABS/ASC modulator relays.
Here are the main items for each service type.
Service A
Replace Oil
Replace Oil Filter
Replace Transmission Oil
Replace new sealing washer for engine sump plug
Replace Pollen Filters
Replace Keyless Remote Batteries
Lubricate the gear range selector rod
Remove foreign matter from: radiator, condenser, oil cooler, steering system oil cooler, charge coolers, & gearbox oil cooler
Inspect the following: hydraulic system, exhaust system, braking system, body drains, engine mounts, gearbox mounts, sub-frame mounts, engine drive belt, fuel system, turbocharger rubber hoses, steering column universal joints, couplings, steering rack flexible gaiters, track rod, front axle ball joints, drive-shaft gaiters, bottom radiator hose, tire treads, tire pressure, brake pads, parking brake & cables, coolant hoses & clips, coolant levels, washer fluid, central hydraulic system reservoir fluid, brake fluid, ABS modulator, water cooled charge cooler fan & pump, E-box, ECM cooling fan, wiper blades, batteries, spare wheel, seat belts, lights & horn, and steering.
Service B
Replace Brake Fluid
Lubricate Door Check Mechanisms & Clevis Pins
Inspect the following: gearbox actuator breather, undercarriage, final drive, brake calipers & dust seals, brake discs & parking brake drums, remote control locking and anti-theft system, and bodywork.
Service C
Lubricate the Gear Range Selector Rod
Replace the Transmission Oil Intake Strainer
Lubricate the Height Control Valve Ball Joint
Lubricate the Brake Push Rod Clevis Pin
Replace the Spark Plugs
Replace the Coolant
Inspect the following: dampers and front & rear convoluted seals.
Service D
Replace the Air Filter Elements
Replace the Secondary Air Injection Filter
Service E
Inspect the Gas Charge Pressure in the Hydraulic Accumulator
Replace the Leak Detection Pump Filter
Replace Brake Caliper Seals
Replace Brake Caliper flexible Hoses
Replace the Final Drive Oil
Service F
Replace Main Fuel Filter
Replace the Evaporative Loss Control Canister
Replace the Engine Drive Belt
Replace the Oxygen Sensors
Inspect the Induction System