Angry about the price increase? Let MyPlates.com and other customers know by commenting on the MyPlates.com Facebook Page. Unfortunately, you will need to "Like" them to leave a comment, but let others know about this enormous price increase: MyPlates on Facebook
I've always liked personalized license plates. When I was a kid, it was amusing to try and figure out the riddle of a cryptic plate. When I bought my first car in college, I went to the local tax office to find out how to get personalized plates. Since then, I've had them on almost every car I've owned.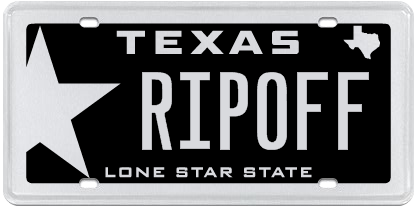 A couple years ago I was excited to learn about new personalized license plate designs from MyPlates.com, a private vendor for the Texas Department of Motor Vehicles. I decided to get one of the newly designed plates, even though it was a bit expensive at $95 per year. The personalized plates I had in the past were ordered directly from the Texas DMV in Austin, at $40 per year. So even though the price was higher, I thought I would be cool to have one of the new designs. Fast-forward about a year and a half later and I receive this letter (see below) informing me that if I want to renew my plate, the renewal rate is $155 per year. And other specialty plates will increase from $85 to $195 per year! Since this is the only vendor with which the State of Texas has a relationship, it looks like I am stuck. It's not like I can run to a competitor. I certainly don't want to pay $155 per year for plates, in addition to regular registration fees. How can the state promote a company that does this? What is to stop MyPlates.com from increasing the price to $255, $355, or heck, why not $1000? It's quite aggravating to me.
My attempt at a solution: I'm going to see if I can register the same plate number with the state, instead of the misguided folks at MyPlates.com. I will keep you posted, but as for now, it seems MyPlates.com has a license to rip you off.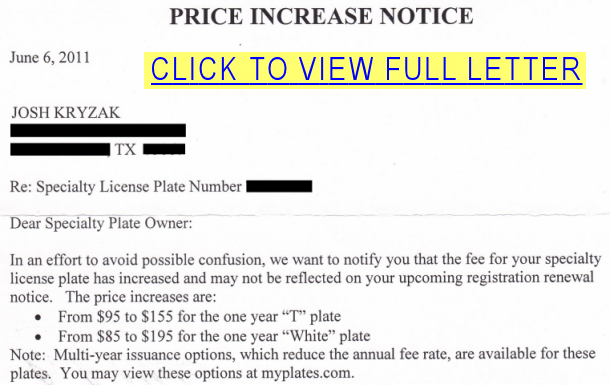 P.S. As of the posting date of this article, "RIPOFF" is available for purchase.
Related Articles: