A fellow Bentley/Rolls-Royce fan recently sent me a couple photos of a unique custom creation that was spotted in Alberta, Canada. Presenting: the Mentally Insane.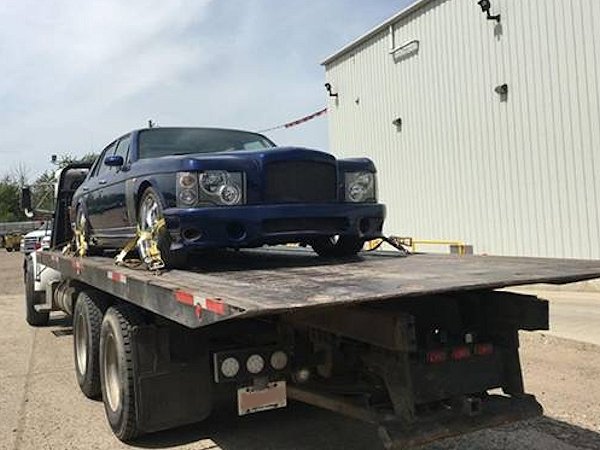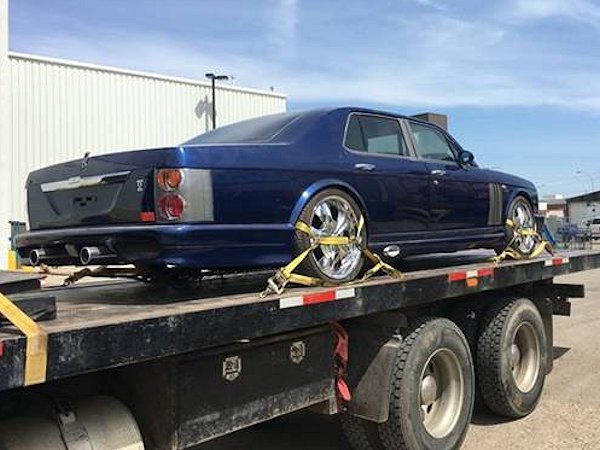 The "creative" custom car seen here is a modified 1983 Bentley Mulsanne. This is the creation of independent car designer Andy Saunders. The car, aptly named "Mentally Insane," was completed in Britain back in 2003. As Mr. Saunder's website states:
Andy's work knows no boundaries. His ideas jumping erratically across a number of thoughts and patterns from concours restorations to mind blowing designs with an unrivaled eye for detail.
No boundaries indeed. While some purists may find this Bentley piece distasteful, it is easy to appreciate the amount of effort that went into the creation. While Bentleys are known for the craftsmanship that is poured into every vehicle, this vehicle received a second helping after it was retired.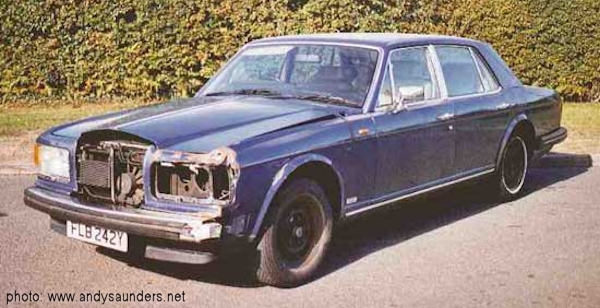 Among the most obvious custom touches are the Range Rover headlights and taillights. The Bentley is reported to contain parts from Mazda, Opel, Volvo, Mercedes, Suzuki, Ford and several others. The chopped top is dropped 2.5 inches, and gives the sedan a much-needed rakish look. Unfortunately, the 20″ wheels look out of place and would be more fitting on any car from the 1990s.
Honors include the European Concours De Elegance, Schwetzingham 2003 and the Rolls Royce & Bentley owners club 'Car of the Month' according to andysaunders.net.
The car was last seen in the Edmonton, Alberta area and still runs. It was sold at auction in England for $30,000 in 2008. In 2010, it was auctioned off at Barrett-Jackson Scottsdale. It was offered with no reserve and went to a Canadian buyer for $44,000.

So what do you think of this British beast? I certainly appreciate the color, and the chopped top does add an edge of sport to an otherwise aging auto… but other than that, I am out of compliments. The amount of work that went into this project is certainly noteworthy; and I won't fault a man for following his automotive passion. But to quote a fellow Bentley/Rolls owner: "A car like this should be transported in an enclosed trailer."
For more photos and information, visit: http://www.andysaunders.net/mentally-insane/.